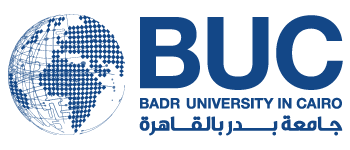 Type

Private
Location

Cairo
Adress

Badr University in Cairo, Cairo Governorate, Egypt
Description
The founders of Badr University in Cairo (BUC), are worried about the divergence between the knowledge and skills genuinely needed by the Egyptian economy versus the knowledge and skills possessed by university graduates. We are hopefully aiming to reach a prosperous and enlightened society, thus we decided to establish a first class, nonprofit, private university in a new urban setting endowed with all the necessary physical, human, and intellectual capacities. BUC will strive to be a premier place of learning and scientific discovery, and a guiding light for the Egyptian renaissance in the 21st century. BUC aspires to graduate students characterized by integrity who are able achieve their goals, serve the world, and face different challenges. BUC's academic program offers students great opportunities and a healthy environment in which they have passion to what they are doing. They develop creative and critical thinking skills essential to navigating successfully through a rapidly changing world.
University Admission Requirements:

A copy of the student sit card number  (before the outcome of the result of the general secondary).
Photocopy of a high school or equivalent (after the outcome of the general secondary).
Copy of birth certificate.
Copy of national ID for students.
Copy of parents national ID.
Note: (English placement test is a must).
Final Admission Results Requirements:

Original birth certificate.
6 personal photos 4×6 with a white background.
Copy of national ID.
Military papers for male students.
Students enrolled at other universities should submit a withdrawal statement and a case statement showing their Military status.
Transferred students should submit a certificate of good conduct from their previous universities.
Transferred students Requirements:

Copy of high school certificate or equivalent.
Copy of international ID or copy of passport.
Certificate of good conduct for transferred students.
Original transcript documented from The Ministry of High Education.
Course description accredit from The Ministry of High Education.
Fees paid for transferring procedures are not refundable.
See more